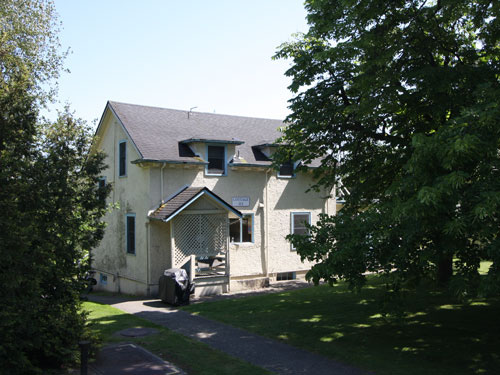 Boys Industrial School Cottages (BISCO)
The Tudor-style cottages were completed in 1922 as part of a much larger campus for the Boys Industrial School of Coquitlam (BISCO). In the 1920s, popular belief was that the behaviour of troubled youth could be corrected through hard work. In the early days, these youth were considered inmates, providing labour on Colony Farm. As this belief fell out of favour, the BISCO program shifted to educational programming and relocated. The cottages were repurposed in the 1950s for the Essondale School for the Aged.
Holly Drive Cottages
There are nine cottages that were initially built to accommodate various site staff. Cottage 106 was constructed in 1918 as the Farm Superintendent's Residence. Cottage 108 (1927) was used as the Chauffeur's residence and Cottage 110 (1922) was the Boys Industrial School Chief Steward's residence. The cottages are currently occupied by tenants.
Oak Terrace Cottages
There are six cottages grouped along Oak Crescent to the north-east of the North Lawn building. They were originally designed as employee accommodations in the 1920s. Each cottage is a single-story wood-frame bungalow with projecting front gables and an entry porch.