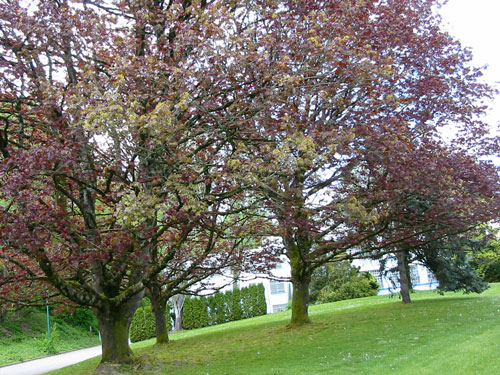 2019 Riverview Tree Maintenance Plan
BC Housing continues to be committed to protecting the tree collection at Riverview. We continue to work under the advisement from Dr. Julian Dunster, the lead arborist for the Riverview Lands, to ensure the long term health of the trees and in accordance with the Riverview Tree & Plant Protection Specification.
Members of the public interested in Riverview's tree collection are encouraged to review the Riverview Lands' interactive tree survey, which includes information pertaining to tree height, age, genus, species, critical root zone (CRZ), and diameter, as well as photos of the trees where available.
A summary of BC Housing's 2019 Summer Tree Maintenance Plan is provided below;
Tree Maintenance
Monitor and adjust irrigation of new trees planted in North Health Precinct to ensure success in first growing season.
Maintain and monitor levels of mulch over the roots to ensure moisture retention and weed prevention.
Monitor tree stakes on newly planted trees for loose fit and adjust to prevent trunk damage.
Regularly clean the root collar and keep exposed by removing excess soil and mulch, remove any strangler roots.
Monitor watering needs of three transplanted Oak trees from May to October to ensure success, when necessary and advised by Dr. Julian Dunster provide hand watering.
Prune only critical branches on newly planted trees; remove multiple leaders.
Prune established trees on an as needed basis, as advised by Dr. Julian Dunster.
Monitor all trees for any sign of distress or disease (ie. monitor pruning work on Black Locusts #137 & #226 for anticipated crown re-growth and monitor possible risk of root rot).
Cable trees as required, based on recommendations from Dr. Julian Dunster.
Identify locations for future replacement trees.
Invasive Plant Removal
Bohemian Knotweed (a hybrid between Japanese and Giant Knotweed) has been documented at the Riverview Lands. One of the world's most invasive plants, knotweed has the ability to cause significant damage to building infrastructure and has considerable ecological effects. In BC, knotweed is classified as a "Noxious Weed." Under this designation, the owner of the property has a legal responsibility to control it. To protect the grounds, BC Housing is working with specialists in invasive species management and implemented the following invasive plant management program;
Annual pesticide knotweed treatment.
Monitor for live stems on 2016 knotweed treatment sites (Fall).
Inspect 2018 knotweed sites and treat if necessary (Summer).
Administer 2 treatment visits to knotweed sites in North Health Precinct (late Spring and Fall).
Continue blackberry control and elimination throughout site.