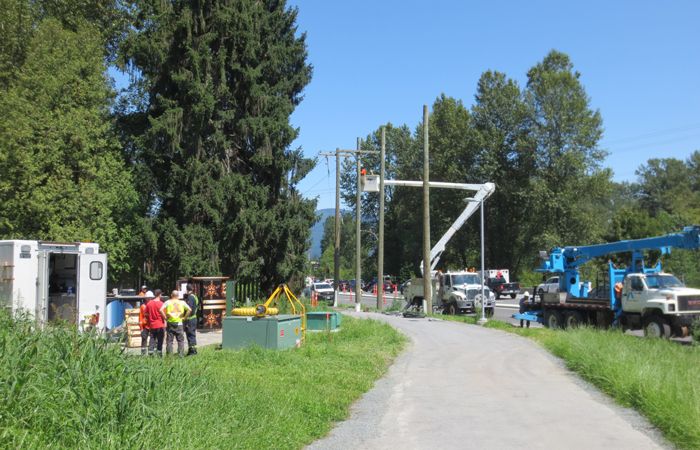 25,000 Volt Power Conversion
In coordination with BC Hydro, an electrical power upgrade was performed at Riverview from 12,000V to 25,000V on Saturday, July 20, 2019.
The power update involved the newly opened Healing Spirt House, the CMHA project currently under construction, BC Housing's outdoor primary meter kiosk, 3 high voltage switchgear boxes, 4 pad mount transformers, and a large stepdown transformer. Works included various field setting adjustments to properly adjust and protect the Electrical Distribution System (EDS) as part of the 25,000V conversion. This included updating the lighting arresters and protection relays adjustments.
Power site-wide was shut down at approximately 7.00am and returned after the upgrade between 5:00pm – 6:30pm as each substation was tested and returned to normal mode. As part of the works, overhead power lines adjacent to Lougheed Highway near Orchid Drive were removed and undergrounded by BC Hydro.
A considerable amount of coordination was required from all parties involved including BC Hydro, building operators and tenants, electrical consultants and contractors and BC Housing to ensure as smooth a transition as possible. In total, approximately 20 staff from various companies were on site to perform the upgrades.
The upgrade to 25,000V will ensure Riverview will be able to continue to meet the needs of our tenants, users and visitors on site.