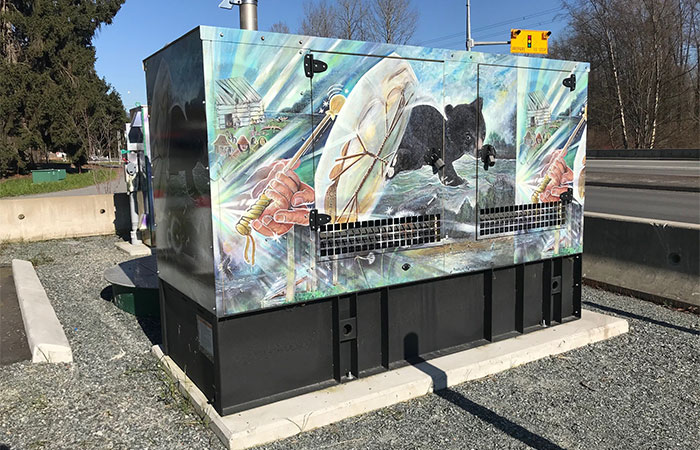 Art Walk - Kwikwetlem First Nation
Image above:
Rosalie Dipcsu, Squamish Nation
Running Spirit, 2019
The Kwikwetlem First Nation occupied and used səmiq̓ʷəʔelə, which means Place of the Great Blue Heron in Hən̓q̓əmin̓əm̓, the traditional language of the Kwikwetlem peoples, for thousands of years for harvesting, refuge and for ceremonial and spiritual purposes. Today, these lands are also known as Riverview.
In 2015, two mental health facilities were proposed for the lands: həyXʷətkʷӨə šxʷhəliʔ leləm, Healing Spirit House, which opened early 2019, and the CMHA facility, currently under construction. As part of these works, BC Housing was responsible to modernize the up to 100-year-old civil infrastructure on the north end of the site to support the new buildings.
In collaboration with Kwikwetlem First Nation, many hardscaped features were used as a canvas to reflect the heritage and culture of their peoples. Patterns and weave designs can be found in sidewalk crossings, fencing and guardrails. First Nation artwork graces utility kiosks depicting a connection with nature and animal life.
We have compiled a map that shows the general location of these elements throughout the north end of the site. The artwork listed includes the Title on the top and the Artist name and Nation on the bottom. We welcome you to stroll through the lands to see the art and designs and learn a little more about the history and traditions of the Kwikwetlem First Nation.  Please stay on sidewalks, roadways or the multi-use path while viewing as not all pieces are easily accessible.