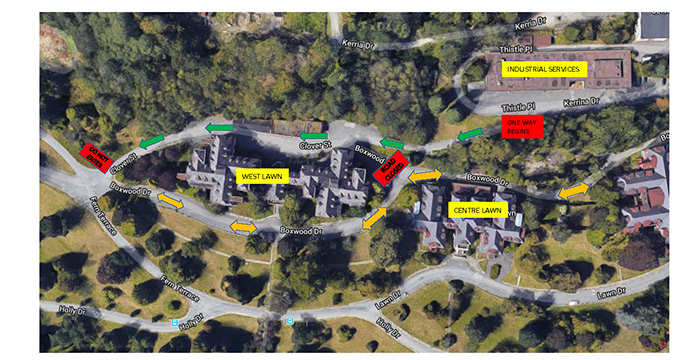 Change to traffic flow and how to view West Lawn safely
Those of you who use the Riverview site will notice a permanent change in the direction of traffic. Here's the important information at-a-glance:
To allow for better traffic flow, BC Housing will be changing the road leading from the Industrial Building heading south on Clover Street to a one-way traffic pattern
Access to the back of West Lawn from Centre Lawn (Boxwood Drive) will be permanently closed to all traffic
These changes will come into effect on July 15th
If you live or work on site – or come to visit us often – this may take some getting used to, but we thank you for respecting these changes as they've been put in place to keep tenants, staff and visitors safe.
Visitors to the Riverview site are welcome to look at West Lawn from a safe distance, outside only. To help visitors stay at a safe distance, we've installed a fence around the rear of the building. Please don't enter the fenced area. It exists to keep us all safe – which continues to be a top priority for us at BC Housing.
Thanks for exercising due care. If you have questions, feel free to email us at [email protected].