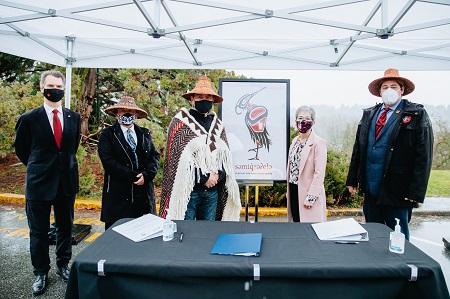 The Future of səmiq̓ʷəʔelə / Riverview – Join us on March 30, 2021
The Province and BC Housing are excited to join Kʷikʷəƛ̓əm (Kwikwetlem First Nation) to honour the Nation's historical and cultural ties to the lands by renaming the site səmiq̓ʷəʔelə.
səmiq̓ʷəʔelə (pronounced Suh-mEE-kwuh EL-uh) means "Place of the Great Blue Heron" in hən̓q̓əmin̓əm̓, the traditional language of the kʷikʷəƛ̓əm people, and signifies the land's historical use as heron roosting grounds.
Chief Ed Hall of kʷikʷəƛ̓əm First Nation explains that "the renaming of Riverview to səmiq̓ʷəʔelə is very significant to our Nation's overall goal of reclaiming and revitalizing our culture and traditional language. The name was given by the kʷikʷəƛ̓əm membership, based on memories and accounts of the Riverview slopes before settler arrival. The kʷikʷəƛ̓əm people and Nation look forward to reconnecting with these lands – lands which are on our core, ancestral and unceded territory – by being a meaningful partner with BC Housing in the master planning process and by sharing with the rest of the public our rich history and culture."
The renaming is reflective of the Province and BC Housing's partnership with kʷikʷəƛ̓əm in determining the future of the Lands together and as a step towards reconciliation.  
More information:
Upcoming Master Planning Process
In 2015, BC Housing released "A Vision for Renewing Riverview" that outlined aspirational goals for the future of səmiq̓ʷəʔelə / Riverview. We are grateful to everyone who contributed thoughts and ideas during that phase of the process.
Kʷikʷəƛ̓əm and BC Housing are now ready to launch the next phase of the process, master planning. During this phase, a tangible plan, known as a Master Plan, will be created for the redevelopment of səmiq̓ʷəʔelə / Riverview.
Master planning is expected to be a multi-year process and will include engagement with the public and key stakeholders. The kʷikʷəƛ̓əm Nation will also conduct an extensive community engagement with their membership during this time. The feedback from both rounds of engagement will be incorporated into səmiq̓ʷəʔelə's master plan. No development plans are currently in place for the site.
Please join us for a virtual Community Information Session (CIS) to kick off the master planning process.
When: March 30, 2021 from 6:00-7:30 pm
Where: Online via ZOOM. Please register for the event at sumiqwuelu.eventbrite.ca
The event will:
Summarize what we heard during the Visioning process.
Provide project updates and an overview of the Master Planning process.
Outline how members of the public can provide input into the site's Master Planning.
We look forward to starting this important work with you all.

Photo Caption (top): səmiq̓ʷəʔelə unveiling
From left to right: Parliamentary Secretary and MLA for Coquitlam-Burke Mountain Fin Donnelly, Councillor George Chaffee (kʷikʷəƛ̓əm First Nation), Chief Ed Hall (kʷikʷəƛ̓əm First Nation), Honorable Minister and MLA for Coquitlam-Maillardville Selina Robinson, Councillor John Peters (kʷikʷəƛ̓əm First Nation)