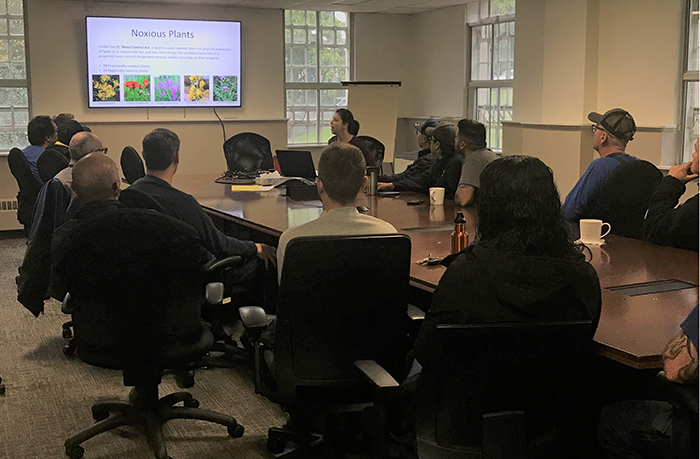 Invasive Plant Training
PGL Environmental Consultants conducted an informative and hands on session on invasive plants with a focus on the six noxious weed species and twenty invasive plants currently found on the Riverview Lands. This session was attended by over 20 of BC Housing's grounds crew responsible for maintenance of the Riverview Lands and other directly managed properties throughout the Lower Mainland.
Under the BC Weed Control Act, a land occupier (person or entity who is in physical possession of land, or is responsible for, and has control over, the condition and activities of the land) must control designated noxious weeds occurring on the property. There are 38 provincial and 26 regionally designated noxious plants including Tansy Ragwort, Orange Hawkweed and Purple Loosestrife.
The session started with a desktop presentation describing different noxious and invasive species commonly found in the area as well as recommended management practices to prevent the spread of infestations. This was followed by a site tour of identified knotweed and bramble occurrences on the Riverview Lands.
Knotweed management is ongoing on the Riverview Lands and is a multi-year treatment program. Knotweeds spread easily and are often found in riparian areas, irrigation canals and ditches. Knotweeds grow quickly and choke out native species while contributing to erosion and sedimentation in watercourses due to the lack of root hairs. The stems can also grow through asphalt, building foundations and retaining walls causing significant damage.
The preferred and ongoing method of treatment for Knotweed at Riverview is an herbicide application including foliar and stem injection. The knotweed areas undergo multiple treatments over a minimum 3-year period. It is critical to monitor the treatment areas and treat the remaining stems to prevent another infestation from taking hold. Through these efforts and the ongoing work of the grounds crew, we are actively and effectively managing approximately 15 knotweed polygons on site, blackberry brambles and various other invasive and noxious plants.
Further information regarding noxious and invasive species including management techniques can be found at:
Invasive Species Council of BC
Invasive Species Council of Metro Vancouver