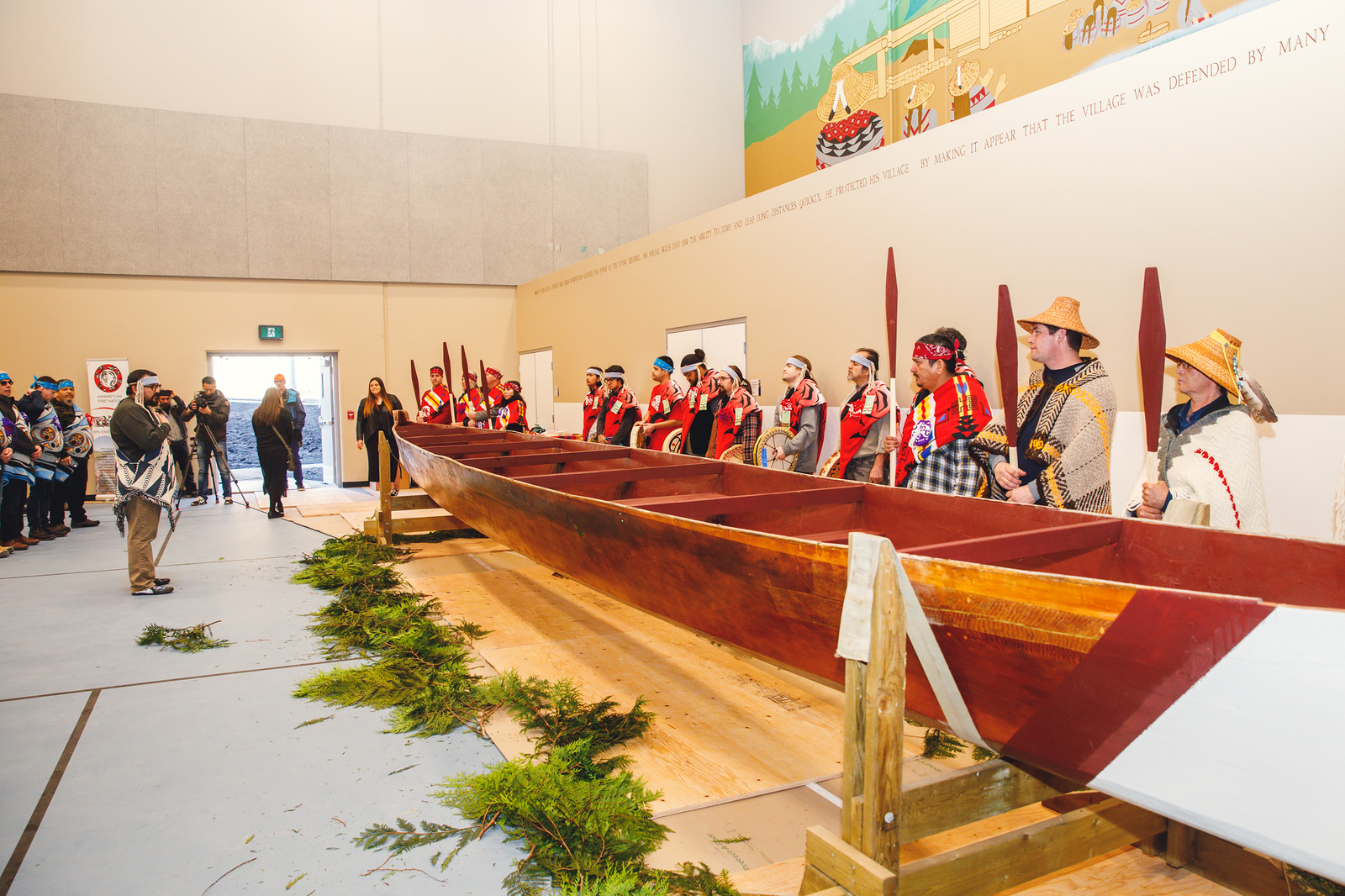 Kwikwetlem First Nation dedicates canoe to new Healing Spirit House
Kwikwetlem First Nation hosted an historic canoe dedication ceremony on the Riverview Lands where they dedicated a canoe to the new Healing Spirit House (həy̓χʷət kʷθə šxʷhəliʔ leləm), set to open in March, 2019. The facility is the new home for the Maples Adolescent Treatment Centre for Youth and the Provincial Assessment Centre, and will provide 38 beds for youth as well as a range of direct residential and community mental health services.
Brought from Alert Bay on the northern west coast of B.C. by members of Kwikwetlem First Nation, carvers worked for a year to transform the 1,000 year old red cedar tree into a traditional ocean-going canoe. 
Historically the canoe was a main source of travel for many Coast Salish first nations peoples including Kwikwetlem First Nation. In being gifted to the Province, it symbolises a new journey to healing and reconciliation. Councillor Fred Hulbert of Kwikwetlem First Nation helped to bring the canoe down the coast and spoke to the significance of dedicating it to Healing Spirit House.
"This journey right here…we hope as a nation that spiritually it brings all those who look at it, it brings them to a sense that they're also on a journey themselves," Hulbert said.
Kwikwetlem First Nation invited representatives from the Province of BC, BC Housing, and the City of Coquitlam to take part in the ceremony that involved dedicating the gifted canoe to Healing Spirit House.
Eight representatives from the Province of BC, BC Housing and PCL Constructors (the Design-Builder of Healing Spirit House) were invited to join eight representatives of Kwikwetlem First Nation to carry the canoe into the new building.
Witnesses were called and had the responsibility of sharing the significance of the ceremony and showing respect to the canoe, Chief Officer of Special Projects at KFN Enterprises, Andrea Aleck, said "Our teachings are to paddle as one, this brings unity, harmony and shared leadership responsibilities, as all paddlers are equal," Aleck said.
That was a sentiment echoed by others who took part.
"We're creating a facility that's designed for healing, that's meant to help people move forward on their own personal journeys related to mental health and addiction," said Minister of Municipal Affairs and Housing Selina Robinson.
"Now we have a First Nation, whose traditional lands we are on, and they're participating with us to move that forward," she said.
BC Housing CEO Shayne Ramsay says the ceremony speaks to reconciliation.
"It's about working together and treating everyone and each other as human beings."
Meanwhile Kwikwetlem First Nation Chief Giesbrecht said the province's participation with Kwikwetlem is "nothing but partnership."
"Working together, going forward as one," Chief Giesbrecht said, "without that partnership, without paddling together, we're going no place."