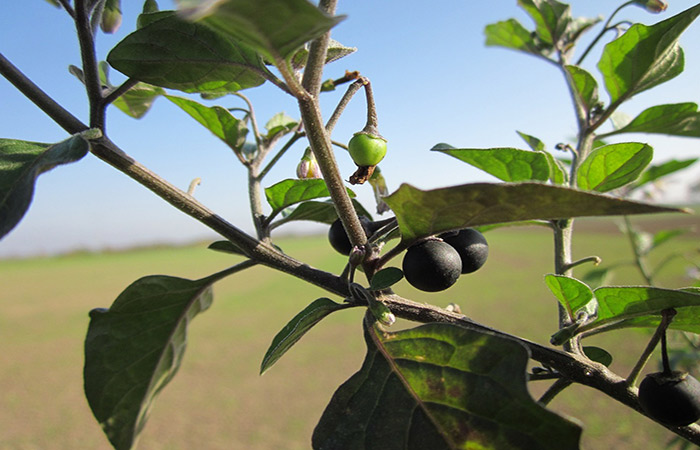 Notice of Poisonous Plant on Site: Black Nightshade
Tenants and visitors of the Riverview Lands should be aware that Black Nightshade (Solanum americanum or Solanum nigrum) has been identified in several locations on site, including just south of Orchid Drive and Lougheed Highway, near the Multi-use Path. Please be aware that this plant is toxic to humans, particularly small children. While the whole plant is considered toxic, the berries have the greatest level of toxicity. When Black Nightshade is discovered BC Housing will coordinate its immediate removal, so please let us know if you come across Black Nightshade on site.
People of all ages should be mindful to steer clear of this plant, but adults should be especially watchful with young children and pets. Symptoms of poisoning include nausea, vomiting, salivation, drowsiness, abdominal pain, diarrhea, weakness or respiratory depression. Black Nightshade is highly toxic to dogs and cats, so seek emergency veterinary care right away if you believe your pet as consumed any part of the plant. Symptoms for dogs include disorientation, loss of appetite, sluggish heart rate, feebleness, excessive salivation, extreme lethargy, widening of the pupils, stomach pain and diarrhea.
Black Nightshade, also commonly called Garden Nightshade, is a non-native species of invasive plant. You can identify the plant by looking for the following features:
Red or black globe-shaped berries (late summer, fall)
Mature berries have a matte (non-shiny) surface
Ovate-shaped leaves with wavy edges
White to pale blue flowers in clusters (July – September)
A single stem, standing erect at 15-60 cm tall
If you come across this plant, please don't uproot it yourself. Contact us at [email protected], noting the exact location of the plant and we will arrange to have it removed.
Be safe, and thanks in advance for communicating with us about Black Nightshade sightings.